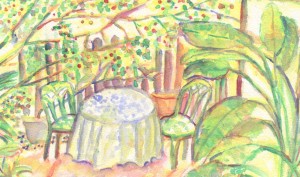 10th Anniversary
To M.H.
No longer do I play
tapes and discs made
when you plucked your guitar;
drank your whiskey.
No longer do I travel
to your tropical compound,
your artists' Shangri-La
to paint in your gardens;
pen poems on your porch.
No longer do I take the bus
to Montreal, sun streaming in
to warm the winter day;
bathe us in a heavenly light
as we roll along the road.
No longer to I hang out
on Rue Sainte-Catherine;
wander directionless and droll
with light snow falling,
listening to Dylan, repeatedly,
sipping a large cup of cafe au lait.
The decision to cross the dark river
was yours alone.
The blues that haunted us
swept you away.
Your visits in dreams
are slowly dissolving;
at times, I long for your return;
a want which will never be fulfilled.
Lainie Senechal