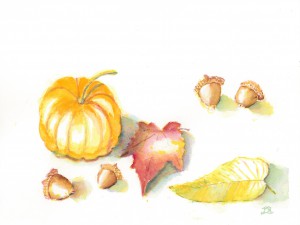 Autumn Gleanings #1
October's Last Love Song
The autumn sun sinks
color of leaves into skin.
The wind plucks sweet notes
from golden branches and
strums stalks of reeds whose
shaggy heads sway to the sound.
The melancholy romance
of October's last song
is carried on currents
into depths of blue and
caught on ragged edges
of behemoth clouds that
travel to other places.
I cannot remain here
and I cannot depart;
I am wound in tendrils
of intense infatuation.
Lainie Senechal
Announcement: Lainie will be exhibiting works of art in a group exhibit at Prudential Center (Huntington Arcade – Winter Garden), Boston, MA from November 5 – November 21, 2015.  Opening Reception is Saturday, November 7th from 3 to 5 PM.