Monthly Archives:
January 2016
like a large yellow rose,
now settles above hills
in faint light of dawn.
Lainie Senechal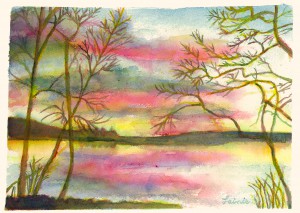 Winter Branches Watch Sunset
Winter Branches
At end of day
last flash of sun
hovers over lake;
we may be deceived
by its fuchsia brilliance
that travels quickly
from edge of horizon,
a jest of summer
behind bare branches.
But we are not dumb,
the peal of winter bells
ring under a waxing moon,
frost king marches forth.
Lainie Senechal
Harris Gardner Comments:
Beautiful poem with great imagery especially in the closing lines. The painting dazzles the eyes. It captures a degree of shimmering light. The trees , I think, show a Chinese/ Japanese influence with their delicate elegance. The painting produces a very dramatic effect. A very successful creation!
Lost leaves that traveled
on the tireless wind
now lie along roads
or wind up in woods,
trampled by footsteps.
The moon's enigmatic glow,
sensuous and ladylike,
softens the cold, still night.
Lainie Senechal
Announcement:  Lainie will present poetry and watercolors in the new exhibit  at the Kaji Aso Studio: Winter Branches, Winter Moon.  Opening reception is January 16 from 7PM to 9PM, 40 St. Stephen Street, Boston. MA.