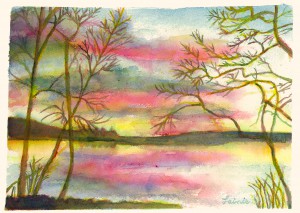 Winter Branches Watch Sunset
Winter Branches
At end of day
last flash of sun
hovers over lake;
we may be deceived
by its fuchsia brilliance
that travels quickly
from edge of horizon,
a jest of summer
behind bare branches.
But we are not dumb,
the peal of winter bells
ring under a waxing moon,
frost king marches forth.
Lainie Senechal
Harris Gardner Comments:
Beautiful poem with great imagery especially in the closing lines. The painting dazzles the eyes. It captures a degree of shimmering light. The trees , I think, show a Chinese/ Japanese influence with their delicate elegance. The painting produces a very dramatic effect. A very successful creation!