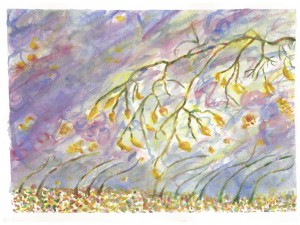 Autumn Wind
Fall Takes Another Step
Fall takes another step forward.
Blustery breezes leave branches empty –
all colorful leaves lost.
The trees do not miss them,
their thoughts curve away,
their productive season ends.
They will peacefully sleep
through claps of thunder snow
and winter's wild winds.
Lainie Senechal
Announcement:   Lainie will exhibit her artwork in the 2016 Amesbury Open Studio Tour on Nov. 12th & Nov. 13th.  She will also hang 100 haiku along the tour route.