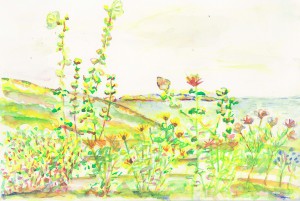 August Garden, Isle of Shoals
Early August
Pleasant days flow forward,
each following another.
Some hot and steamy,
with afternoon showers
to water the gardens,
clean and refresh the air.
Scent of lilies and ripe grasses
flood the senses,
cicadas' raspy voices lift
on August's light currents.
When the singular sound
becomes howl of winter winds,
these balmy hours will seem
only summer's mirage.
Lainie Senechal
Annoucement: Lainie will participate in a poetry event with a reading a Whittier poem and original work son August 13 at the Whittier Home, 86 Friend St. Amesbury, MA.