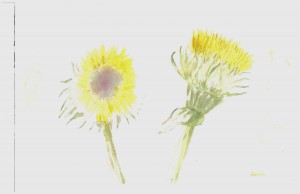 Sunflowers Awaken
September Morning
A morning of secrets –
a halo of mist rings
the cooling lake,
catches in branches
of tall trees along shore.
In some spots the sun
breaks through, bright
rays explode on ripples
created by rising wind which
cleans out remaining wisps,
pushes tethered boats
to rub and squeak against docks,
while a kingfisher rattles above:
the song of a September morn.
Lainie Senechal
Announcement:  Lainie will be exhibiting artwork with members of the Kaji Aso Studio at the Fenway Community Center, 1282 Boylston St., Boston. The exhibit runs from Sept. 1 through Dec. 31st with an opening reception on Sept. 16th from 3-5 PM.  Free and open to the public.