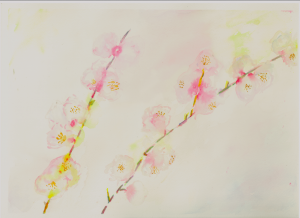 First Blossoms of Spring
In Its Time
Spring's heat is brief;
one waits with excitement
for relief from winter's woes.
Though the heart beats with expectation –
cold, raw days continue.
Do not sweat weather's worries,
stay calm, spring will,
in its time, arrive.
Lainie Senechal
Announcement:  Lainie is exhibiting  her artwork in group show at the new Amesbury City Hall gallery. There will be an opening of the exhibit and a celebration of the new gallery in May.