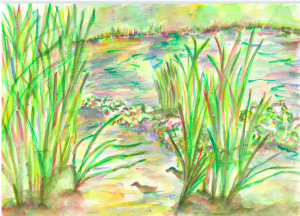 Along the Muddy River
Shelter #8
Ice on the winter lake,
once frozen, has cracked.
Now it retreats and returns
with the rise and fall
of season's fitful weather.
A full moon illuminates
the crests of wave,
recently released from capture.
Ripples scatter in the light,
like birds with flashy feathers,
freed from shelter of henhouse
to nervously search for sustenance
in the dark barnyard dirt.
Lainie Senechal
Announcement: Lainie will present art and poetry in "Shelter", the Winter Art Festival at Kaji Aso Studio. Opening reception: Saturday, Jan.19, 7-9pm. Poetry reading and music at 8pm. Free and open to the public at 40 St Stephen St., Boston.