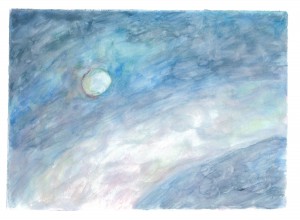 The Moon Waits
The One Night
Stars shake shiny dust
on path to rendezvous
which rises from leafy glade,
passes nebula's smoky gases
that echo tall thunderheads,
travels beyond the black holes,
crosses the Silver River
for their annual meeting,
their one night of bliss.
Lainie Senechal
Lainie will exhibit paintings and read her poetry at this event:
Tanabata – The Star Festival
A group exhibition from July 9 – July 31.
Works inspired from the ancient legend of Tanabata.
Opening reception: Saturday, July 9th from 7 pm to 9 pm.
Poetry Reading from 8 pm.
As a special treat there will be a performance of a new play by Debra Weiss entitled "Untitled"   at Kaji Aso Studio, Boston, MA.