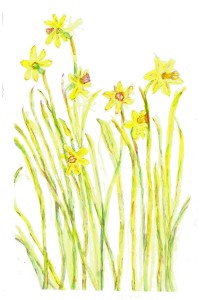 Tete-a-tete
Infatuation
On this harsh, blustery day
heart holds only spring.
Sun will not be halted
in its march to rule the hours.
Spirits lift up to the light;
we hear a new tune
trilled in morning's twilight;
evening's glimmer lingers
along horizon, competes
with the rising moon.
Storms do not defeat us;
their bellows have
a distant, hollow tone.
We are already infatuated
with the romance of spring;
like lovers in a trance,
no vagrancies of weather
will distract us from
the rapture of life's renewal.
Lainie Senechal