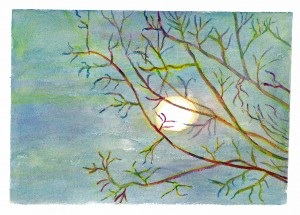 Full Moon Caught in Branches
Inheritance
From parents, a gift,
small cottage beside
shore of alluring lake,
where winter wends to an end.
Spring arises beneath snow
as bulbs surge from slumber.
Lake stays silent;
cover of ice stills surface.
Fishermen spend milder hours
near holes drilled into shell;
lazily lounging as dawn's light
spreads its soft blush
across a blank canvas and
morning's moon is caught,
in web of bare branches.
Birds twitter and tweet
fresh tunes to set territories;
serene season nears its conclusion.
Soon, ice will crack and moan;
teeth of wind-driven waves
will gnaw at its edges.
Mergansers will paddle between
floes, a respite on journey north.
Breezes will birth a constant murmur
where noisy gulls and silent falcons
will search for sustenance.
The cycle continues, handed down
to former and recent residents
from the native dwellers
who camped along these shores.