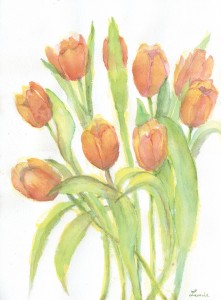 Tulips
Moving Into the Green
Green above, green below;
green runs around and beyond.
Grass shoots up a carpet of green,
tender leaves open into green,
branches drip tassels of green:
bright, brilliant emerald green;
dark, secretive hidden green.
Before dawn singing of green
that flies away at first light;
at night, scent of green
which inhabits our dreams.
Lainie Senechal